How to renovate your office for 2021
It is that time of the year to show off the new you and look at what the new year will offer. It is time for businesses to think about how to renovate the office for 2021and how to prepare it for the future. To create the perfect office, different factors will come into play. Factors such as the corporation's aesthetics, as well as the personalities of its staff members and company culture. The perfect office will create a happy and healthy workspace that matches with businesses goals and the way work is done around the office.
As many companies have their workforce working remotely, it is important to ensure the office remains a happy and healthy place to return. Incorporate flexible, efficient,and sustainable solutions to create social spaces and work zones that can be easily adjusted by employees.
The perfect office will be a place where employees reconnect with one another and find inspiration. A workspace that encourages collaboration and engagement, a place where your employees look forward to going, not a stiff environment.
Find some tips to renovate your office for 2021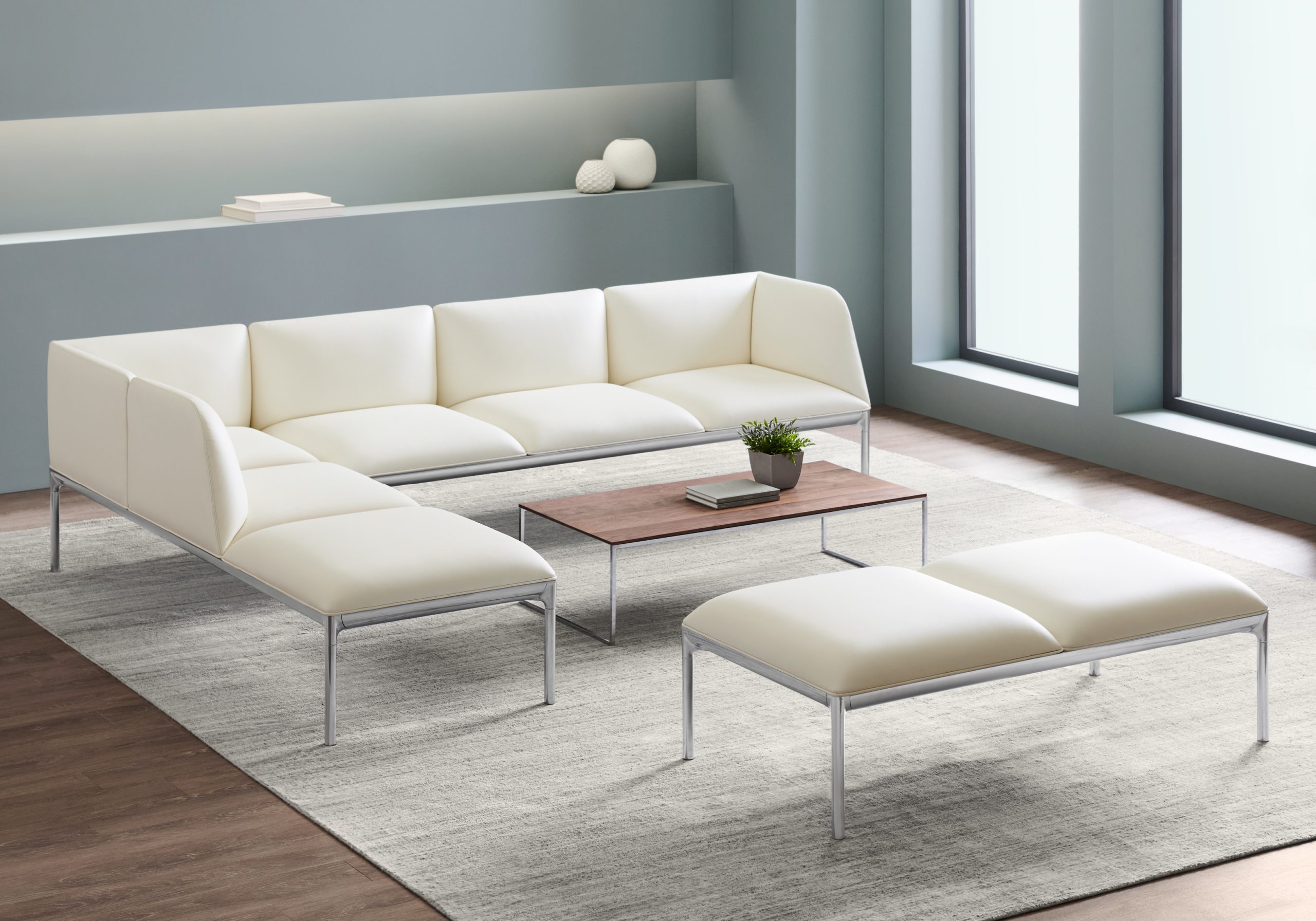 Lighting & Windows

Incorporating natural light through windows and artificial light will help your employees to be alert and attentive. Make sure there is adequate light to get work done, low levels of light can lead to drowsiness and deterioration of eyesight over time. Small adjustments and renovations will have provided improvements to the satisfaction of employees.
The exposure to natural light helps regulates mood, helping employees stay productive throughout the day. Areas and spaces with windows are typically designed for common areas rather than private offices.
Light can be used in different ways; it can help create specific areas of work. For example, a focus light would be used where work is being done. It can help with the design of social zones or to create an oasis for individual work.
Colors & Pantone Color of the year

Adding color to different spaces will increase creativity and imagination among employees. Avoid using white, grey, and black color palette for your office, consider adjusting with more colorful designs that help promote creativity and productivity. Helping push your company in the direction you want.
Pantone, the global color authority revealed its 2021 Color of the Year selection last December. Pantone decided to choose two different colors: Ultimate Gray (Pantone 17 -5104) and Illuminating (Pantone 13-0647). The two colors paired together create an aspirational and complementary duo. Illuminating it's the perfect optimistic shade for that sunshine filled days of spring. On the other hand, Ultimate Gray is a solid and dependable with feelings of composure.
"This is a color combination that gives us resilience and hope. We need to feel encouraged and uplifted, this is essential to the human spirit," describes Leatrice Eiseman, Executive Director of the Pantone Color Institute.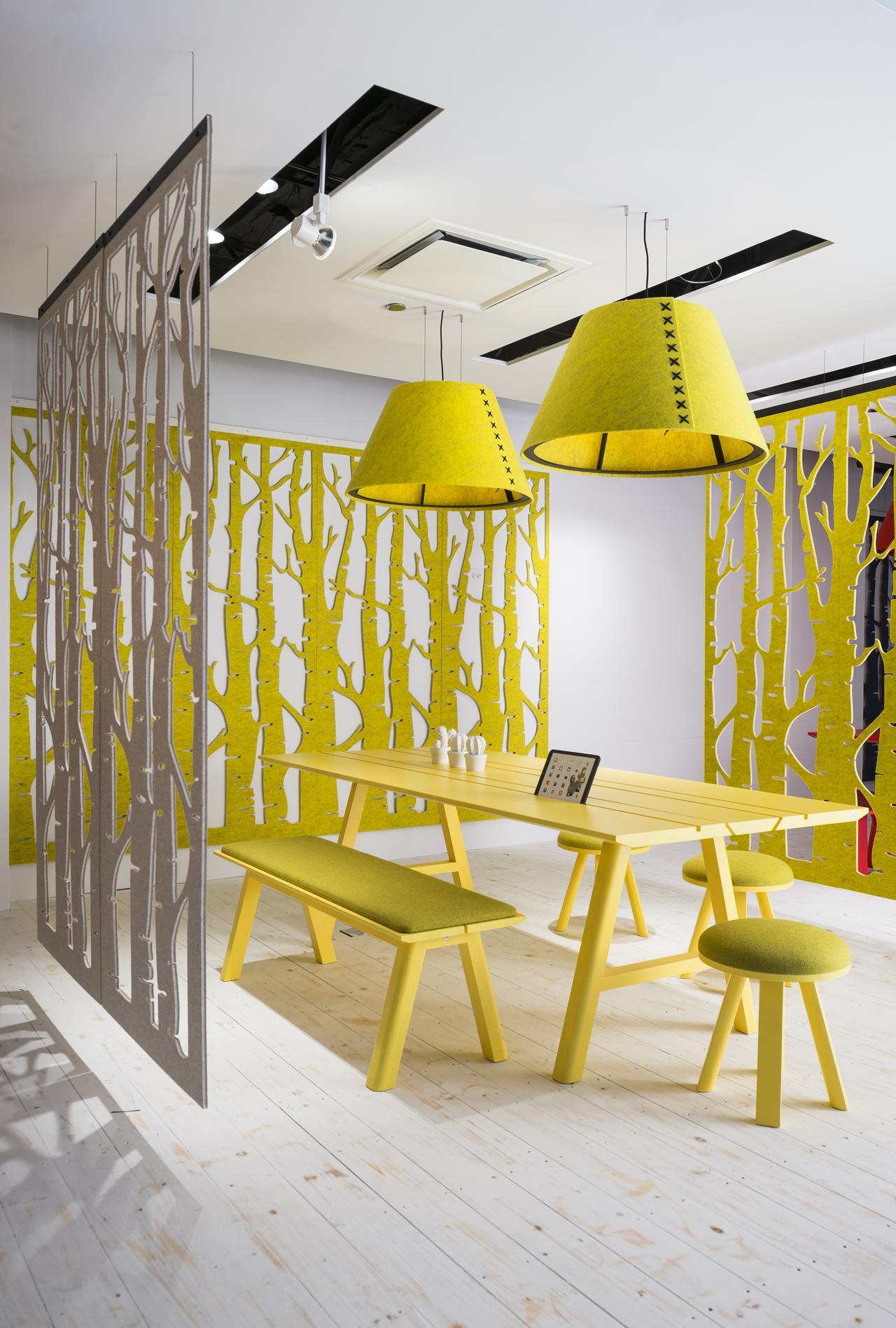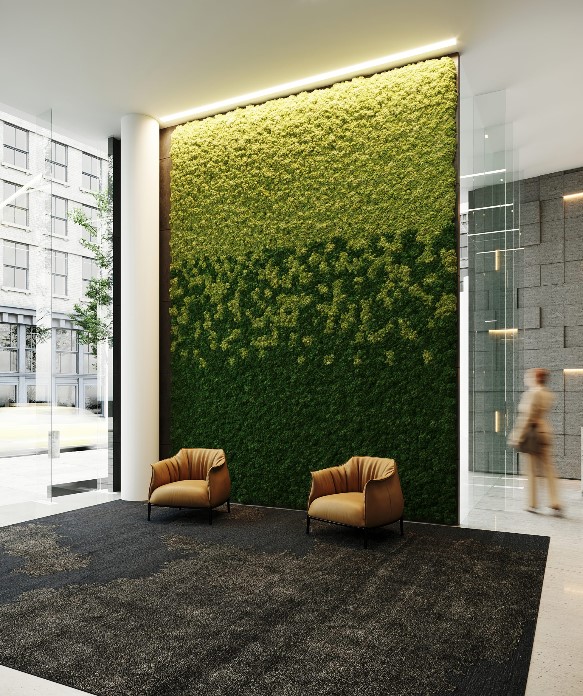 Plants & Biophilic Design
Plants provide help increase health and well-being, as well as adding freshness and vibrancy to any workspace. Plants and biophilic design and elements will help revamp your office and will keep you connected to nature. Incorporating biophilic design into the workspace has significant benefits to employee's health and well-being. On top of seeing an increase in productivity, cognitive ability, creativity, and concentration.
Create luscious environments with biophilic elements to form boundaries within the office. Biophilic design is much more than adding some plants to the workspace. Workspaces are designed to include direct and indirect experiences for users. For a direct experience with nature include water, plants, light, and natural landscapes. On the other hand, an indirect experience includes images of nature, natural materials, and colors, as well as shapes and forms evoking nature.
Creating connections with nature is a growing trend among interior designers. Biophilic design can be used, adapted, and added into educational facilities, hospitality industry, and residential areas.
Lounge chairs & resimercial design

Having a comfortable and ergonomic chair is important to stay healthy. But adding a resimercial design into the workspace will also aid your mind and body when switching between tasks. Merging interior design features and aesthetics from residential homes and commercial offices creates a holistic design style that seeks to benefit people.
The main objective of the resimercial trend is to engage with people in a personal and memorable way, to make them feel at home. This trend is being used by interior designers to revitalize shared spaces within corporate offices. Retail stores, offices, and healthcare facilities are among several buildings that have seen the positive effects of the residential and commercial design collide.