A Place To Connect
Anthony Allan transforms Turning Leaf Support Service's new head office in Winnipeg into an open, inspirational space for staff
Working in the social services industry is both rewarding and challenging.
Employees at Turning Leaf work closely with individuals facing mental illness and intellectual challenge. These individuals are often deeply impacted by their circumstances, including trauma, homelessness, poverty, addictions, discrimination, sexual exploitation, societal stigmas, and lack of access to resources. This kind of work requires a workspace to that accommodates a variety of employee needs, participant needs, and room to decompress.
Turning Leaf Support Services is a Winnipeg-based non-profit charitable organization designed to provide treatment and crisis intervention services to people in Manitoba and Saskatchewan living with mental illness and intellectual challenge. Their programs are designed to provide custom, person-centered support for people experiencing homelessness, mental health crisis, conflict with the law, addictions, and all the things that go with those experiences.
Founded in 2005, Turning Leaf expanded so much over the last few years, they quickly outgrew both of their offices, leading them to look for a new home.
Finding a new home
After searching for over a year, Turning Leaf found an unexpected, yet perfect location for their new forever home, nestled on a quiet street in an industrial area of St. James. Knowing they would need to completely remodel the space, Turning Leaf hired JC Robbins Architecture to bring Turning Leaf's vision for their headquarters to life. Plans for the 1800 square-foot, one-and-a-half-storey Mid-century modern era building located at 565 Roseberry Street in Winnipeg were underway. JC Robbins Architecture chose to work closely with Anthony Allan Office Furnishings in designing a space that allowed the Turning Leaf team to do their important, complex work and collaborate comfortably and efficiently.
"Admittedly I had very limited awareness of what office furniture looked like or could be," says Barkley Engel, CEO and founder of Turning Leaf Support Services. "When I thought of office furniture I thought of something less dynamic, much less engaging than what they proposed. What I like about Anthony Allan's contribution is it's sleek, it's minimalist in many ways, but still beautiful and still comfortable."
Through discovery sessions with JC Robbins Architecture, the Turning Leaf team articulated essential criteria for the new space. Since Turning Leaf is constantly responding to mental health crises, they need easy access to one another and a space that allows staff to retreat or rejuvenate when they need.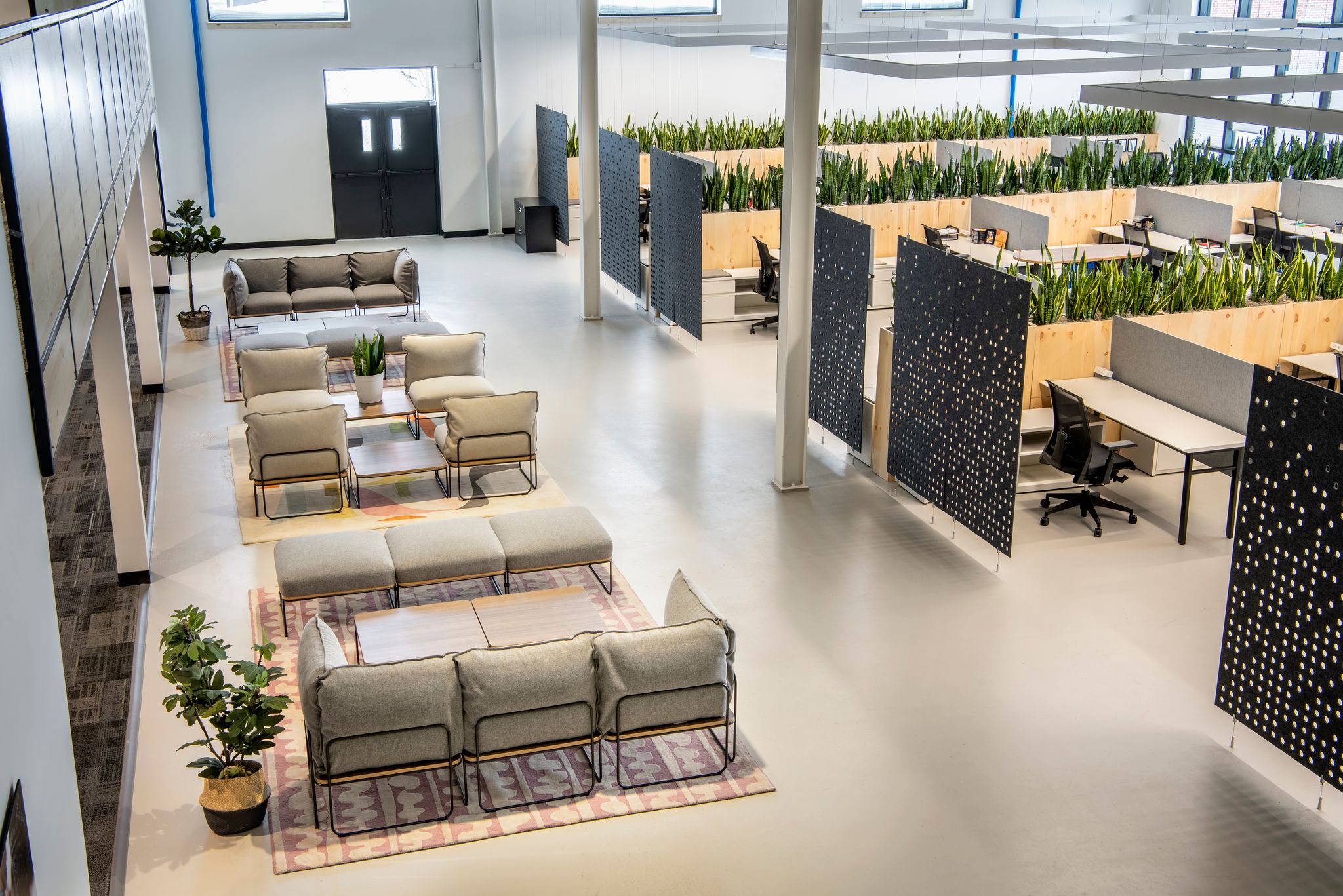 "There are multiple areas for people to sit down and collaborate in an impromptu fashion. We have lounging areas peppered throughout the entire space, and places to congregate and eat lunch and watch TV or a hockey game, or whatever it is, so people can decompress a little bit from the pressure of the job," says Engel. "We knew we needed space to collaborate, we needed space to relax. We wanted it to be a space that people wanted to be."
Creating Social Spaces
When Turning Leaf first acquired the building it was a marble countertop warehouse that had no natural light. Jason Robbins, Principal Architect and Founder of JC Robbins Architecture, says that an important part of this new space was natural light and an area that staff could be happy and comfortable in. The office features lots of natural light and open workspaces, as well as lounging areas and a kitchen, called the Harvest Moon Café. They wanted a foundation for people to do what they do best and that is to talk, think, plan, collaborate, and support each other when working with people who are in pain every day.
The space features a number of elements that are commonly being seen in today's social spaces. Having a space that supports a combination of high-focus work with restorative activities has been seen to enhance employee creativity and well-being, which is a very strong trend right now. For the Turning Leaf office, one of the elements that was used was a biophilic design, which incorporates nature to reduce stress. There are a number of plants seen throughout the office, which are used as both decorative elements, as well as for functional purposes, such as on dividers for more privacy on the main floor workstations.
Anthony Allan Office Furnishings collaborated with the Turning Leaf team and Jason Robbins to select office furnishings that would support the unique, versatile and custom needs of the space. Every piece was tailored and ordered specifically for the project to ensure work, collaborative, and lounging areas were just what the client hoped for.
"We didn't want it to be an office appearance. Everyone hates the cubicle farm and that was clearly understood and recognized by Anthony Allan, so I designed these short walls between the working spaces to keep the opportunity for lots of light to come in, as well as some fresh air and greenery that aligned with these windows that we punched into this warehouse," says Robbins. "Anthony Allan was able to look at the requirement we had and support that with some furniture options."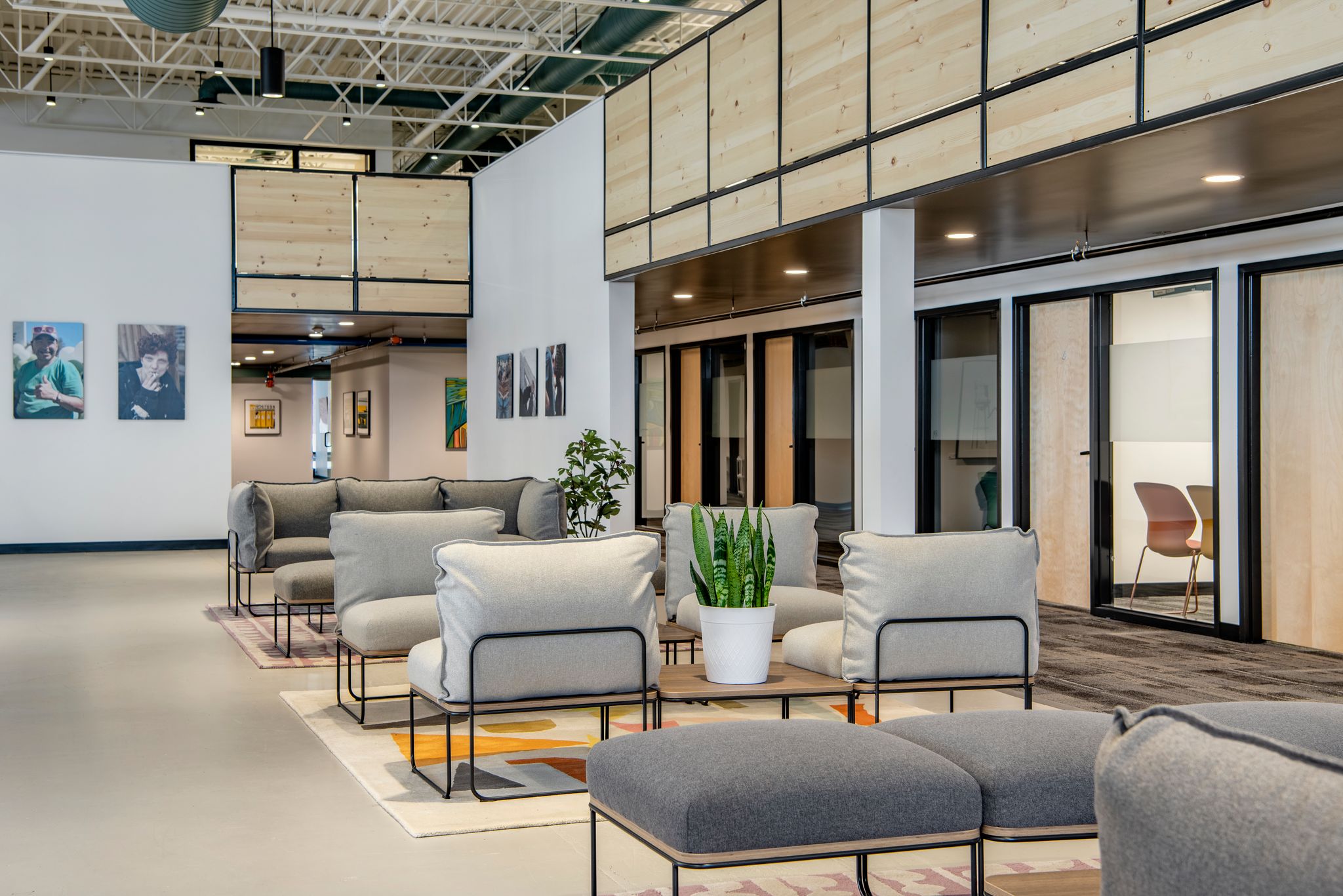 Designing for flexibility
All the lounge furniture is modular so it can be reconfigured based on if it's a normal work day or if they are holding a meeting or event. The space is customizable and flexible to meet everybody's needs.
"People want the flexibility. You like something one year and then the next year you change your mind and you want it laid out differently," says Sara Ramshaw, designer and product specialist at Anthony Allan Office Furnishings. "Being able to do that without purchasing all new furniture and that you can add on to as you needed, is a really great option."
The space is modern and comfortable, and that also translated into the furnishings. The meeting chairs are all the same style but in four different colours coordinated with Turning Leaf's brand colours. The chairs, which are by Haworth, complement the Turning Leaf brand, and the style was chosen to incorporate the mid-century design of the original building.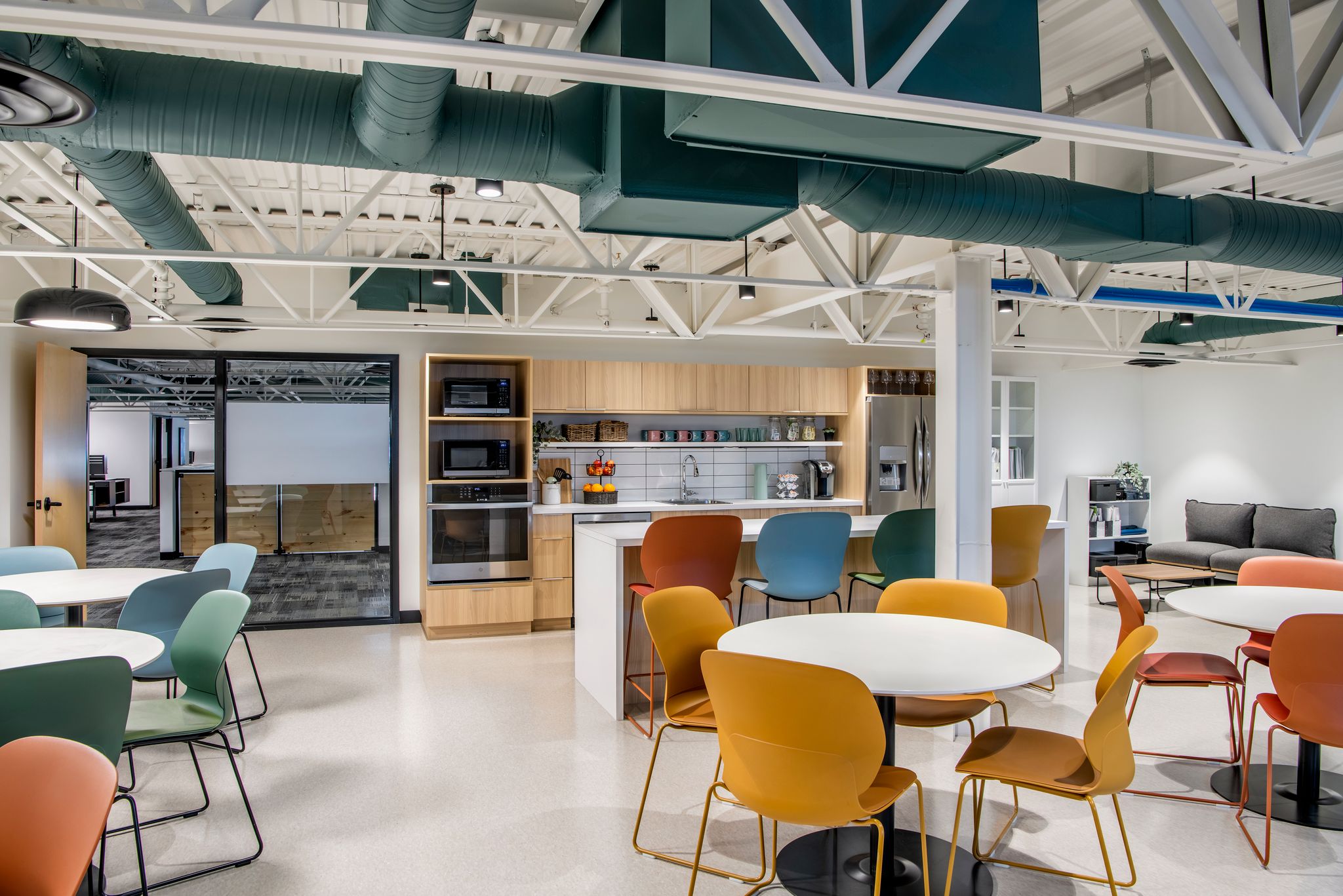 "Earth colours, autumn colours… our name is Turning Leaf, so I have a real soft spot for the turning leaf of the autumn season," says Engel. "I really like that we have chairs everywhere in the building and they have four different colours to them. They are beautiful and comfortable and durable and sleek. They are very Scandinavian in style and I like how that set the tone for what the rest of the building is like."
Phillip Hornby, President of Anthony Allan Office Furnishings, adds that the balance of open workspace versus private areas was well done on this project. He says you must give people a place to retreat for private conversations otherwise the open office concept doesn't work.
Welcoming the human factor
The use of social spaces that allows staff or guests to relax or refresh, rejuvenate, to be able to discuss or have conversations in a far more relaxed, informal manner is seen throughout. The space also allows for serendipitous conversations, ideas, and thoughts where ideas are created.
"There was a large human aspect to this where it had to be an inspiring, healthy, well-lit and a warm environment. We want to create spaces that people want to be in versus have to be in," says Hornby, adding that any good environment doesn't have to be expensive, but it should be thoughtful.
On the top floor of the building there are four separate open space areas where there is an innovative long communal cluster desk space where four people can work. The building also features three board rooms that have interlocking tables that can charge equipment such as laptops and iPhones.
The office furniture in the open areas is unique. The main floor features an open concept with workspaces that are separated by ezoBords, which are suspended from the ceiling with cables. These provide sound absorption, as well as visual privacy since they hang behind the work station. The desks in the space feature a lean design, which makes a paperless management system easier to accommodate in an industry where they typically rely heavily on paperwork. Ramshaw says that in designing the desks, they spoke with the client on their needs and priorities, so for example, for each workspace what kind of work they are doing, how much storage do they need, what sort of computers they are using, etc.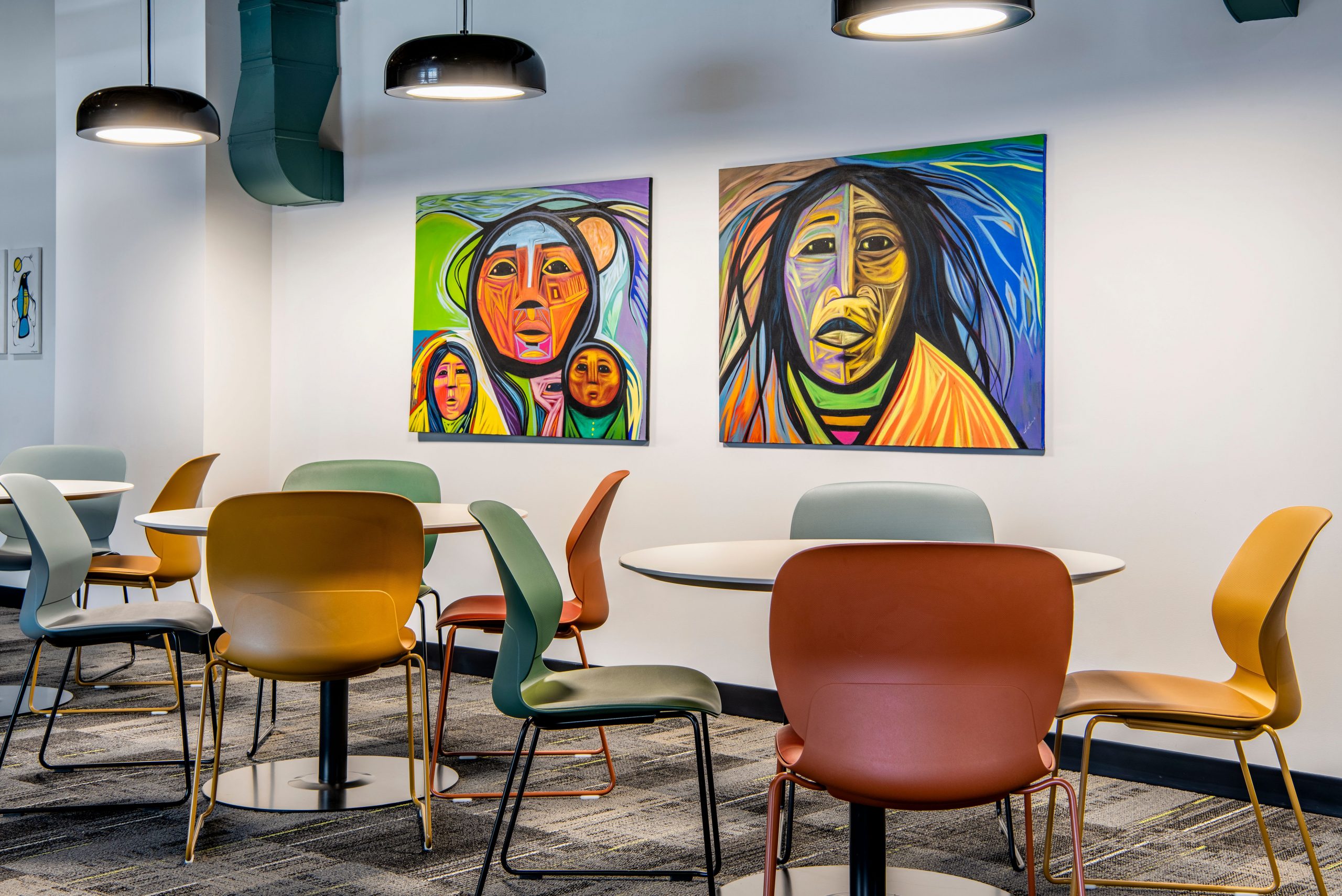 Updating traditional work spaces
"We had a lot of meetings in our showroom and we would show them everything and make changes," says Ramshaw. "We did live designs, so we can walk them through the space as we go and they can see it in 3D and they can say what they like and what they dislike. It's a good way to get the client's input and give them exactly what they want."
Having a cleaner space was a priority for this new office, and Engel says that the chairs, the lean desks, the collaborative spaces, and the overall Scandinavian look, have all contributed to a fresh new tone for their company.
"The way we used to work in the old-school building we were in was very traditional and we didn't have space that was collaborative. We made space that was collaborative. People would talk in hallways, in the kitchen, in board rooms, in crowded offices… now we have inverted that. This space is focused on collaboration. Everywhere you go there are consistent areas with the same furniture, which is very comfortable and ergonomic that you can sit down anywhere and collaborate," says Engel, adding that as social workers, it is very seldom that you get brand-new high-quality products in the industry. "We wanted a space to be comfortable and highly functional for these people to work 24 hours a day, seven days a week and that's what they have here."