Bringing the Outdoors In – How to incorporate biophilic design into your workspace
SEEDS OF CHANGE
A lot has happened in the past two years in terms of the design of office spaces.
One of the perks of working at home due to the COVID-19 pandemic was the idea that you can create a customizable space that was not only functional, but comfortable.  Whether it was setting up in front of a window, working outside on your patio, having furry coworkers, or buying lots of plants, creating a space that allowed one to work with nature, a.k.a. biophilia, made the situation a lot more bearable for many.
Now that people are making the transition back to the office, many companies are incorporating more biophilic design into their workspaces to provide a more productive and healthy space for their workers.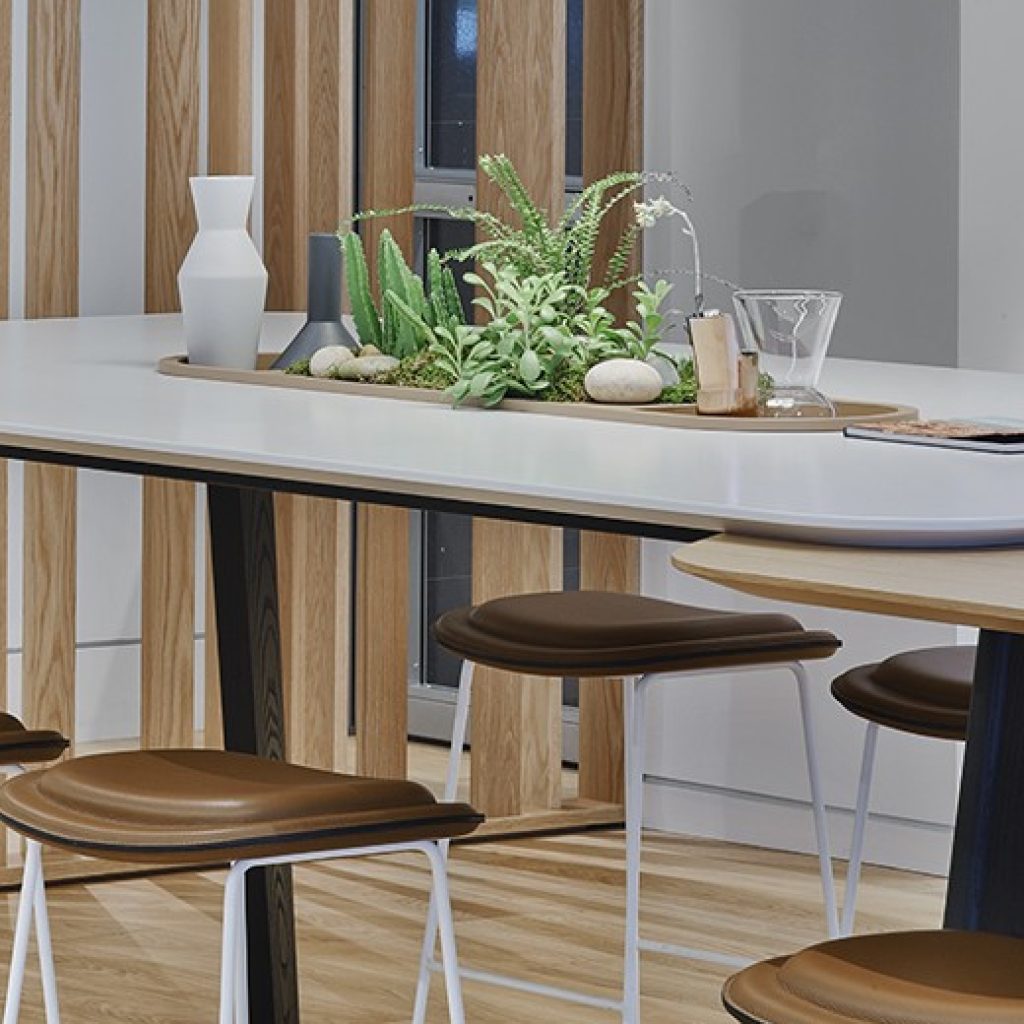 Rooted in nature
Biophilic design is the concept of increasing people's connection to nature through design.  This can be done through the use of natural lighting, plants, or other natural landscape features and elements, such as water.
"All humans have a connection to nature, one way or another," says Phillip Hornby, president of Anthony Allan Office Furnishings (AAOF).  "By incorporating biophilic design inside the office, you are allowing people to go outside.  It reduces a great deal of stress, it helps us remember things better, and you have a heightened awareness. Our cognitive ability is far better when we are outside rather than inside."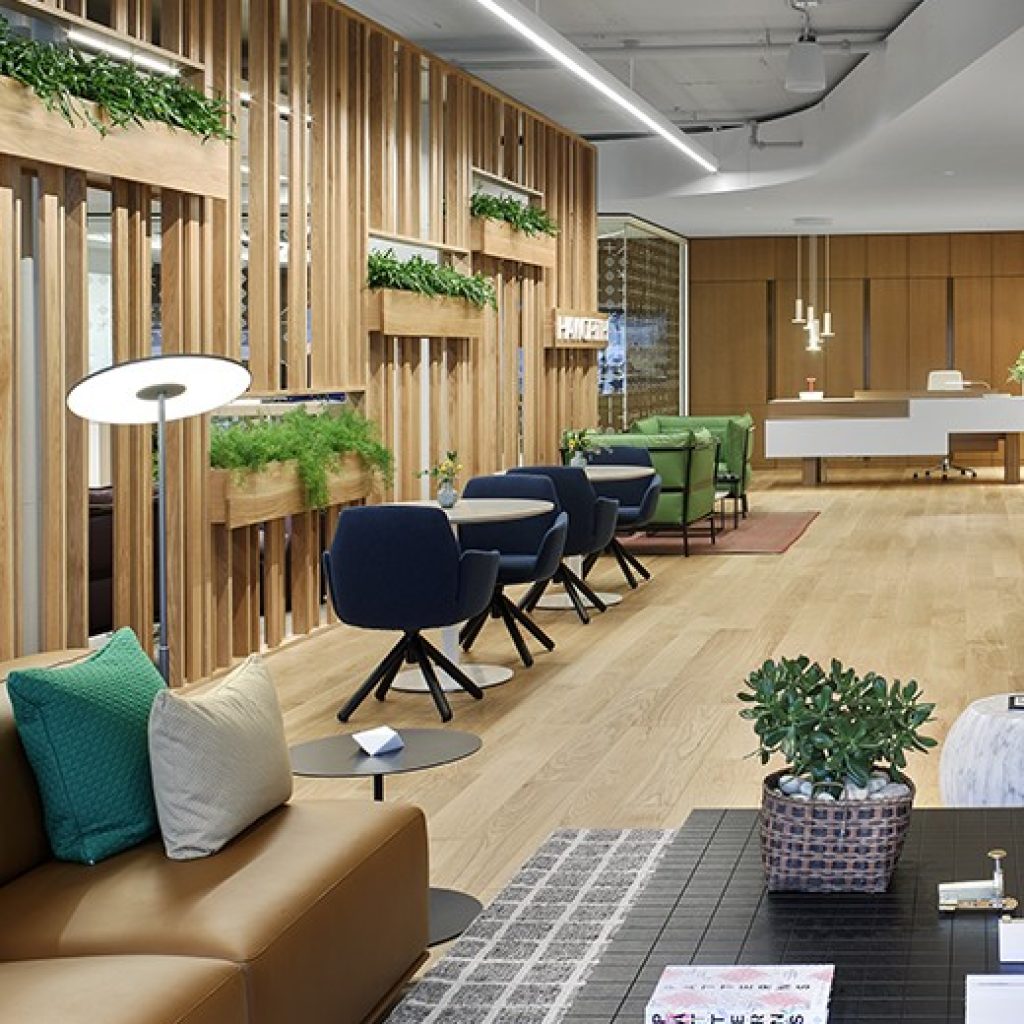 Hornby says the easiest way to incorporate biophilia is through natural light. According to Architectural Lighting magazine, natural light – also known as daylighting – offers many health benefits, such as increasing productivity and comfort.  It can also help to regulate the internal body clock and lead to better sleep.
Another great way to bring the outdoors in is through the use of plants. AAOF offers a variety of modular indoor and outdoor planters from the Magnuson Group, as well as accent walls and preserved moss products from Quiet Earth.
The Quiet Earth moss accent wall, as well as custom installations, help to reduce stress, naturally boost melatonin levels, and increase productivity and creativity. They also work to damper sound through the use of an ezoBord backing, which captures 90 per cent of the medium and high-voice frequencies. As well, the Living Moss products are also maintenance-free, unlike a living wall, since they don't require any watering, trimming, or natural light.
Fresh air, fresh minds
Of course, if you have the space for it, the act of actually getting outside and setting up a workspace outdoors has now become an option of many companies. For a social space that exudes creativity and productivity, take a look at the JANUS et Cie line by Haworth, which embraces a flexible work environment that prioritizes wellbeing.  Available in a variety of different designs and configurations, the JANUS et Cie line is designed to enhance outdoor spaces while engineered to withstand outdoor elements. From indoor atriums to rooftop lounges, this line is the perfect option for a productive outdoor space that fosters connection.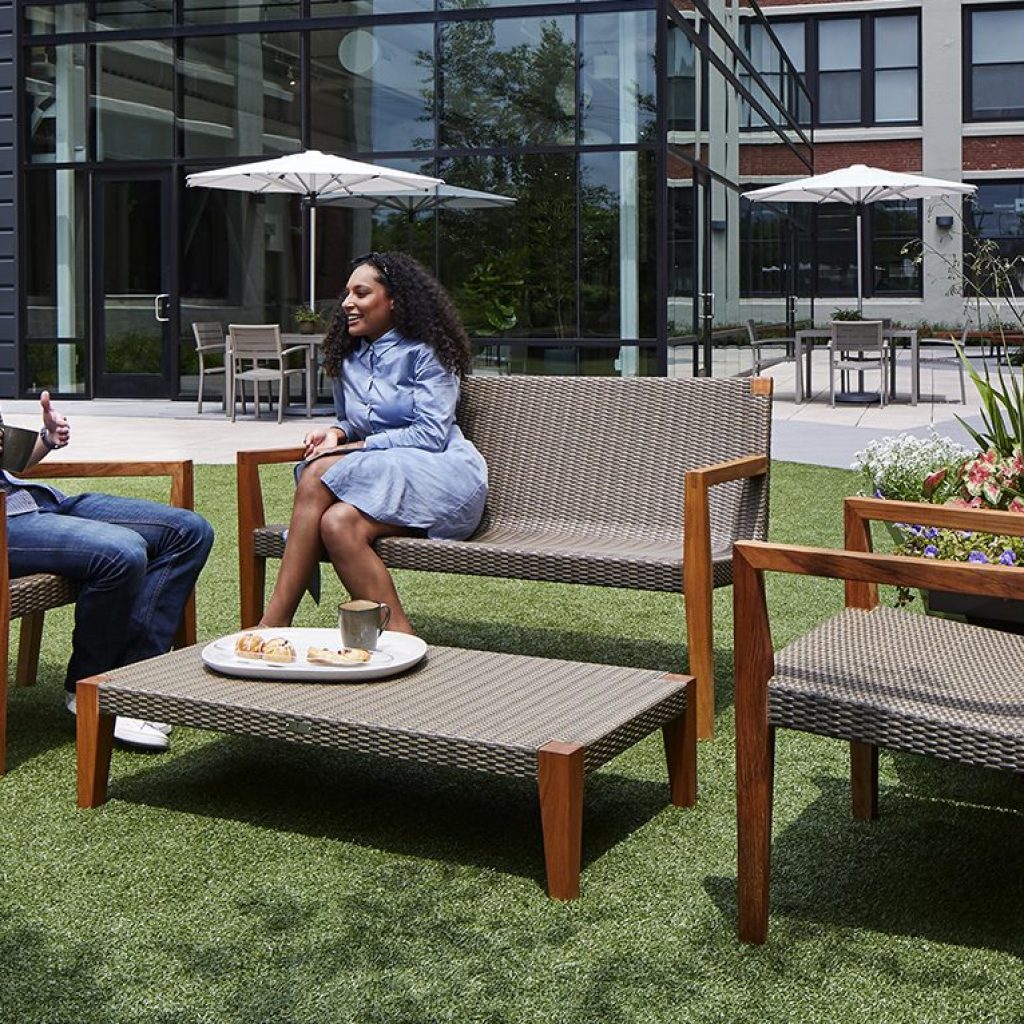 "Even if we can use it just three or four months of the year … we are more connected to people outdoors than we are with people indoors," says Hornby. "It's as simple as creating a social space, a place where people can touch down and meet. They can either go by themselves and rest and rejuvenate, since stress comes off you much faster outside, or it's a great place to connect and share thoughts, ideas, and collaborate. For whatever reason, we are far more attentive outside than we are inside."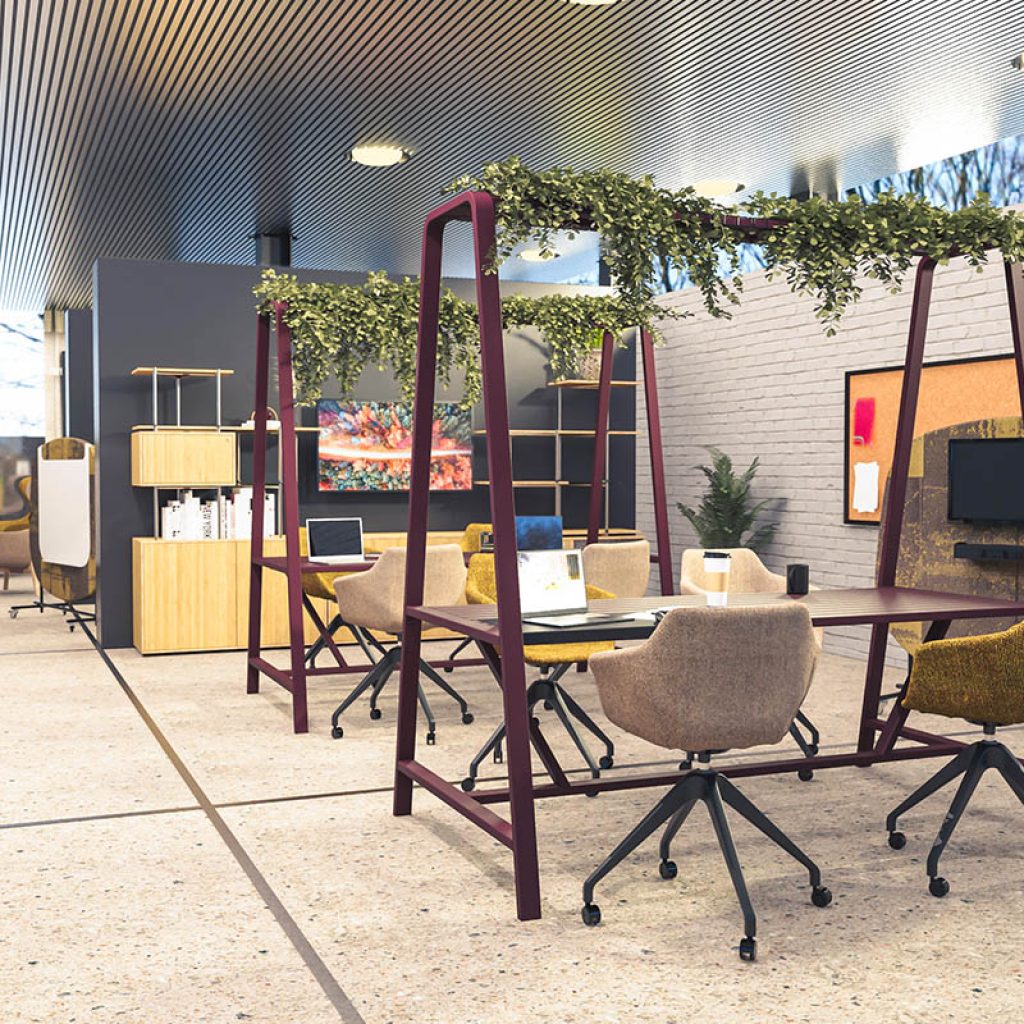 For those who want to replicate the outdoor environment inside, Frovi offers indoor gazebos designed to create a formal and informal workspace to meet and collaborate. This modular octagonal pod can be configured into many different designs, creating a space within a space that is completely customizable. Frovi also has a flexible indoor/outdoor desk space, the Osti Cloud, which is a modern agile workspace that is completely customizable as well. The canopy above the Osti Cloud table top is a show-stopping piece that has mesh trays for accessories such as lights and plants for a modern work environment.
Haworth hosted a one-hour course through the Professional Interior Designers Institute of Manitoba (PIDIM) this April, called Out is the New In, which explored why people need a strong connection to nature at work, the benefits of making these connections through purposeful design, and the tools that architects and designers can use to bring the outdoors inside.
For more information on how AAOF can support biophilia in your workplace, or to learn more about the products listed, get in touch with us today.