How to keep your home office clean during COVID-19
As the CORONA virus evolves rapidly, at Anthony Allan we know this issue is top of the mind for all of us. As we try to slow down the transmission of the virus, it is important to clean surfaces followed by disinfection as a form of prevention, while protecting the quality of our furniture.
With governments stipulating that people must work remotely, it is important to clean and disinfect frequently touched surfaces in order to reduce the spread of the virus. As part of everyday prevention, it is important to reduce interior environmental impacts that disinfectants may cause around your home office.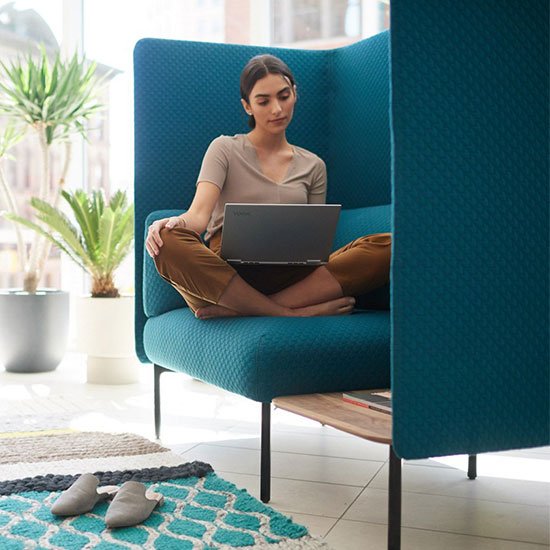 If you are wondering what type of cleaning products to use without damaging your furnishings surfaces here is a general list for each type of surface:
Wood: Clorox ® Disinfecting Wipes
Painted metal surfaces: Clorox ® Disinfecting Wipes
Laminates: Clorox ® Disinfecting wipes
Textiles: Lysol Spray
Plastic Arm caps: Fantastik and Formula 409 disinfectant cleaners
We recommend that a small area is spot tested first to insure no damage to the surface material.  Wipe any excess cleaner off the surface with a clean, dry cloth.
Reduce Interior Environmental Impacts while Disinfecting your Work Surfaces
At Anthony Allan we want to share some recommendations that will help prevent the spread of the COVID-19 virus and keep your workspace environment, as well as products you work with, clean and safe:
Minimize the amount of cleaning chemicals used since excess chemicals result in rapid re-soiling.
Use of Green Seal Certified Cleaning Products. Green Seal is awarded to product that work well and have less impact on the environment.
For general maintenance cleaning, consider using vacuums with high efficiency particulate air (HEPA) filtration to trap airborne particles and keep them from affecting the indoor air quality.
Use no or low VOC cleaning products. Consider detergent based products compared to those containing solvents, where possible.
Consider extraction processes where appropriate to remove excess chemicals and water and to maximize cleaning results. Extraction can also help reduce chemical levels in the indoor environment. Spot extraction may also reduce the chances for over-wetting of fabrics and resulting water stains.
Choose cleaning products with no or low levels of dyes or fragrance. Dyes and fragrance do not generally improve cleaning results and can cause allergic reactions in people with sensitivities to chemicals. Some dyes could cause staining on fabrics.
Consider choosing biodegradable cleaning products.
Environmentally preferable ingredients for cleaners include surfactants containing terms such as lauryl, amides and glycosides.
Not recommended are products containing ammonia and alcohols.